What is your Ideal Office? I have practiced in more non-ideal offices than I care to remember--a state hospital side-room, the community counseling center room I shared with everybody else, my first office that I sublet from another therapist, my first very own (very tiny) office, and many more.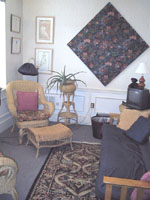 My current office is the best so far. Have you ever had a floating office? The Marina environment is fun and exciting. It also has wireless DSL, phone, and printinf facilities.
As you design your Ideal Office, remember it must meet your needs, the needs of your clients, and, if you work with managed care companies, their needs (for example, a separate entrance and exit). You may have to start with only one item from your Ideal Office list. But keep the dream alive, and soon your Ideal Office will grow into a reality.