The good ship LifeDancing was christened September 3, 2000. She is a 41-foot Islander Freeport designed for Blue Water sailing. She is a "realized" life dream of mine, created with the help of family, friends and colleagues.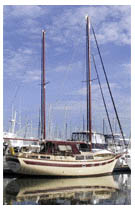 Her picture is here because LifeDancing is also the California location of PracticesMadePerfect (a division of Lawless & Company) and SpeckTech. I see my West Coast clients on LifeDancing, which is berthed in Benicia CA. SpeckTech is outfitting her with the latest communication technology so my boat/office will have full telephone and Internet accessibility while berthed. I await the satellite technology to do so at sea.
My dream is to use the good ship LifeDancing as a retreat space for stressed professionals and a team-building sailing opportunity for human service teams who want to work more effectively.
The more I learn about sailing, the more I realize we must all work together to reach our destination, wherever that may be. I invite you to arrange to visit LifeDancing to relax and enjoy the invigorating sea air. You will find my CA schedule in every LawlessE.Notes.